The highly-anticipated visit of the Google Virtual Reality's Laboratory in Zurich on Friday, 23th of February, 2018 has happened to the delight of over 18 participants including start-ups owners, innovation managers, a renowned speaker, and university researchers.
Objective
With the objective to gather a panel of high level of profesionnals, this meeting established an agenda to discuss not only the many existing virtual, augmented and mixed reality possibilities, but also to see how looks like the Google VR Lab (no photo there 😉 )
Point of Rendez-vous: The incredible hall of the B2 Boutique Hotel + Spa Zürich
A great and very profesionnal team! 😉
As you can see this place is amazing (books are real…)
Getting acquainted
Ok, Google
Google Cinema's room: very attentive public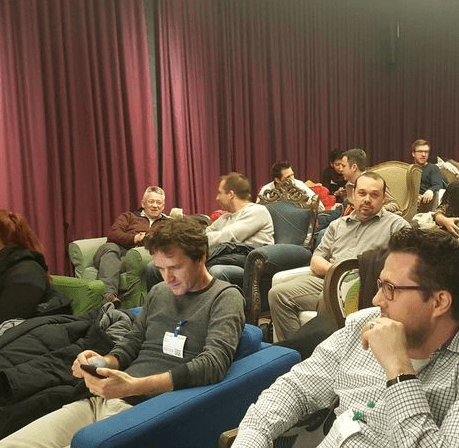 The Talks
1. Rupert Breheny from Google presenting : "Form, function and Fashion"
3. Daniel Gremli CEO of Bandara presenting Toilet Superbowl (who said VR cannot be fun?)
4.Thomas Boillat of the Lucern University talking about his team latest research: Smart glasses in surgery
5.The last presentation by Hans Hoffmann of EBU presenting three AR applications of his team
A very attentive Edward 😉
Thanks to everyone who came together from around Switzerland to join forces for our 2018 first event of its kind, a that was enlightening, interactive and certainly memorable.
Thanks to everyone for sharing your expertise and enthusiasm.
Looking forward to the next gathering!
My favourite photo with Monique Morrow
More photos here : Switzerland Virtual, Augmented and Mixed Reality Meetup
About SSVAR :
The SSVAR is a non-profit organization based in Switzerland and is dedicated to fill the gap between the masses and professionals in the field of virtual, augmented and mixed reality industries.
Its objectives are to:
– promote and bring these technologies into the mainstream, (ex. VR Cinema at the Pâquis in Geneva )
– help technocrats, experts and Swiss inventors to realize their projects through networking, ( ex. Investment forum in virtual, Augmented and Mixed Reality in Zurich )
– incubate startups in this area, ( phase 3)
– be a think tank in the industry by publishing virtual, augmented and mixed reality trends in the Swiss market.(ex. https://www.linkedin.com/pulse/switzerland-virtual-augmented-reality-industry-2018-report-sangar%C3%A9-1/)
Registration's page : http://ssvar.ch/register
Timeline:
Want to connect to the Swiss VR/AR/MR/XR community and Market?
Join us!
Our meetup group (biggest group in Switzerland VR/AR):
2. Twitter (In the top 100)
3. Website :
proudly hosted on Google Cloud Platform