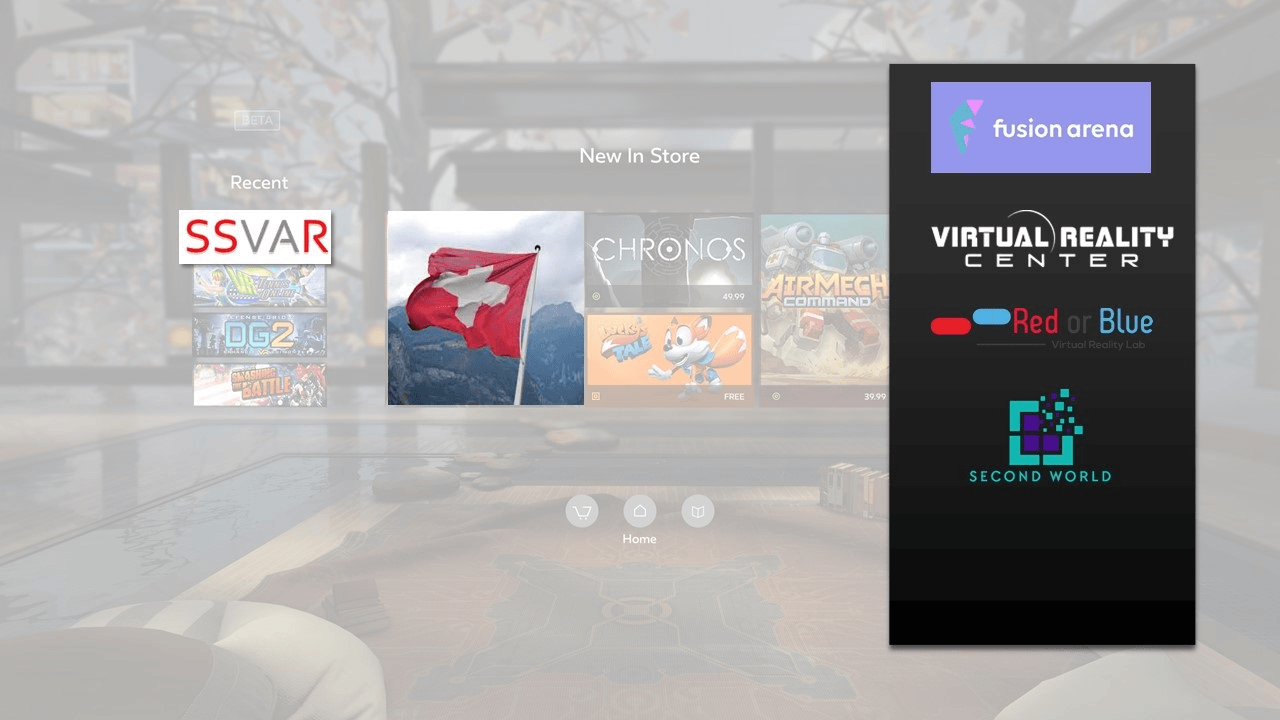 Guide of Swiss Virtual Reality Centers
Most teens can't afford a virtual reality headset, so they're going to VR arcades instead
Virtual reality (VR) arcades are popping up to let people experience the computer-generated worlds without having to buy a headset.
The nascent VR gaming industry earned $286.7 million last year, per SuperData Research. However the firm projected it will grow into a $2.3 billion industry by 2020.
There's a new game in town: Virtual reality (VR) arcades are popping up to let people experience the computer-generated worlds without having to buy a headset.
"There's not that much you can do if you're 13, 14, 15, 16 after school aside from if you don't play sports," George Casseus, head of business development for Brooklyn VR arcade Yokey Pokey. "You just don't want your kids to play video games at home. They come here. They play with their friends. They do more active things inside of here as well."
Source: CNBC
Our range
With us, you experience virtual reality as it should be: move freely with 4D effects and together as an experience. Up to 10 people play together. Not only do you see each other, but you really see every movement of the body with arms and legs.
Prices
Standard ticket
CHF 49.90
Family ticket child
Children up to 13 years accompanied by a playing adult. One reduced ticket per standard ticket. CHF 39.90 Only by phone 044 364 77 78
Vouchers
The perfect gift, virtual reality to touch.
CHF 49.90
We are well prepared for group bookings from Bachelor to corporate event - catering included!
For groups and companies, we are already there for you from 8:00 in the morning.
Animations
You want to see what you experience? Take a look at our latest video, click here.
You have to plan around 45 minutes to visit us.
Your stay with us is as follows:
Code of Conduct :

Study and discuss behavioral rules.
Mission briefing :

Discuss the Mission, Mission & Dangers.

Mission :

The main attraction: A mission in the VR Arena.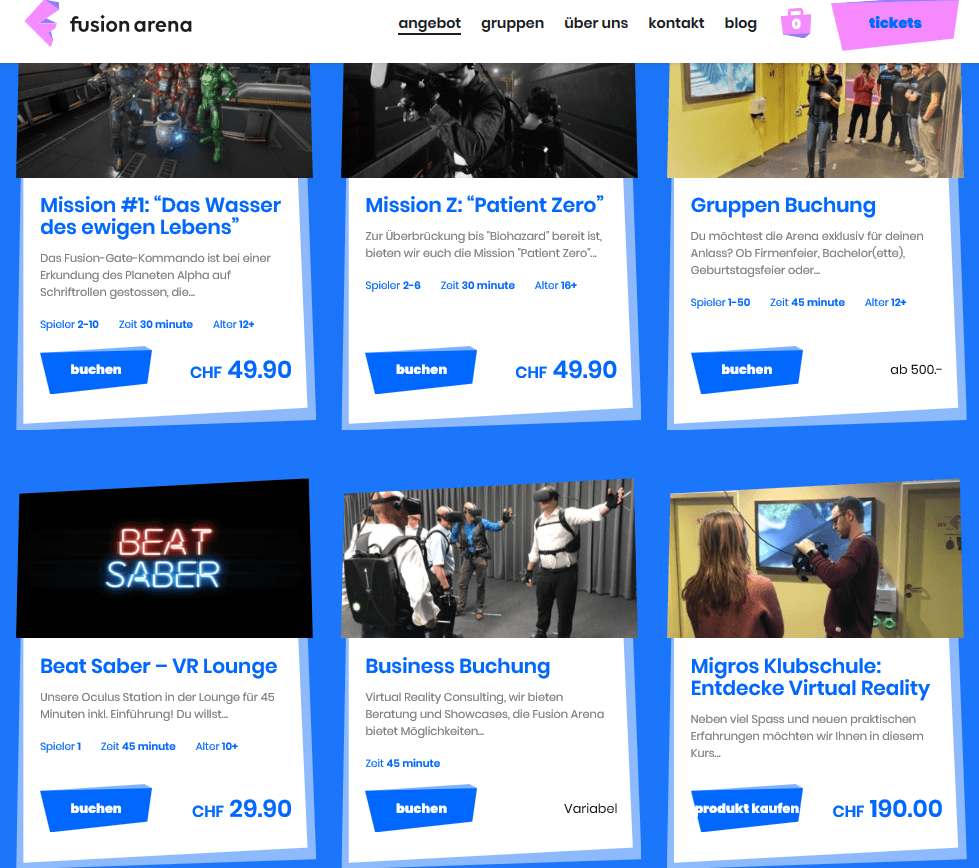 Who are we?
We are a young team with a great vision for revolutionizing leisure activities. We have a great deal of know-how about the film and entertainment industry. After various projects, all with the intention "the participant should not play, he should experience it", we looked for other possibilities of unforgettable live action. This is how the idea of ​​event events developed under "live action games"
Why Virtual Reality?
Our dream was not to be bound to physical playing fields and restrictions from the beginning of the project. With the idea of ​​creating a kind of holodeck, the boundaries between space and time can be circumvented. No matter when and where, all the doors are open to the player. Thanks to VR glasses and tracking systems, a connection between the real world and the virtual world can be created. Fly a spaceship, fight the dragon or fend off a zombie invasion. Everything is possible in the game world.
Our goals
Our goal is to change the market for events and leisure activities. Always new and better worlds of experience are to be created and our customers each guarantee a WOW effect. In addition to Switzerland, our technology is also marketed with partners abroad.
Animations:
With the Red or Blue Virtual Reality Lab, we want to make VR's capabilities accessible to the general public, while providing a platform for testing new developments and offering workshops and VR-related meetings.
TEAM EVENTS FROM 10 PEOPLE OR MORE
2 hours VR experience

VR is a great team event for companies or private groups.
For 2 to 2.5 hours our VR Lab is available exclusively with several HTC Vive and Oculus Rift devices.
Participants who currently do not wear a VR headset can follow the VR events on large screens.
CHF 90.- per person, from 16 persons CHF 85.- per person (excl. VAT)
1 drink (soft drink or beer) is included per person.
MANAGEMENT WORKSHOPS
For companies, we offer management workshops to explore the possibilities of virtual reality and to determine the business potential of their industry.
Workshops on request, [email protected]
E
XTERN EVENTS
External events such as conferences, corporate events, etc., we organize on request, [email protected]
LOCATION
The Red or Blue VR Lab is located in the "Club Bellevue" directly at the Bellevue in Zurich.
The entrance is on Freieckgasse after the "Sternen Grill" and after the restaurant "Rosaly's".
Accessible by S-Bahn station Stadelhofen or the tram lines No. 2, 4, 5, 8, 9, 11, 15.
Animations
Secondworld offers access to Virtual Reality as well as Augmented reality and Mixed Reality. Our mission is to promote and invite you to discover the immersive potential of these technologies by bringing those closer to you in Switzerland.
Near Lausanne, we have opened the biggest space dedicated to Virtual Reality in Switzerland.
With the acceleration of technological developments, the democratization of electronic and software components reserved only a few years ago to powerful corporations, or to research organizations, the opportunities to offer extraordinary experiences to the public are growing exponentially. Still, someone needs to take the time and effort to present them in an affordable way. Secondworld aims to play precisely this role: to search, understand, and make available the devices, software, experiences that will not fail to thrive in the coming years. Whether you are curious to new sensations, a group of friends looking for unusual activities, or a company seeking to innovate the training of their employees, we have the solution.
Contact us, or book directly today!
Come visit the Second World.
THE NEXT LEVEL
Total Immersion
Full immersion. You exist ... elsewhere. The visual and tactile stimulations are perfectly combined.
Multiple Universes
The creativity of the developers allows you to be at the top of a mountain as well as in a pitched battle in the Middle Ages
No Limits
You have the right to try, to cheat, to have fun. No consequences on the reality.
Latest posts by Jean-Philippe Mohamed Sangaré
(see all)