2015 : this computer was a kind of  ultimate gaming machine… 3 years later, the sales guy will tell you : "oh, Mrs Jones this a good computer if you just need to surf on the web and edit your holidays photos… "  If you want a serious computer you have to pay more for the new generation of processor/ram/video card etc…
Nether ending story.
Developers around the world have no time for optimization… Time 2 market 🙁
So they put bad non optimized code, cross their fingers and wait for the users feedbacks, and then begin these horrible cycles of patch/update/patch the patch/patch the patch of the patch… From GAFAM to small IT companies…same story. But as the end users are ignorant they think it's normal.
Shhhh … THIS IS NOT NORMAL.
To run their you'll need more and more power… tiring!
But that's not the goal of this little post. I tell the above story because of the following… Stay focused, please 😉
I have some good friends. Yes I do 😉
One of them has an Oculus Rift CV1 and is not using it for the moment. So he gave it to me…
First step
I was very happy but just after I've tried the installation on my 3 years old computer I've got this message:
"Oculus requires a CPU with SSE 4.2 support"..
Hey Google!
>> I've found a lot reddit users having the same problems… and one of the hacks is to use the previous Oculusetup someone have putted on a server.
I've tried, the check was bypassed but at the end the setup failed… unknown reason… after 2 trials I've stopped completely desperate.
Should I go to the store to buy a new computer which will be old in 3 years? (I've told you stay focused 😉 ). My computer was a (middle) high-end computer in 2015… But I can't use an hardware of 2016!!
[amazon_link asins='B072JLNPXV,B07CG47LYG,B01F91WID6,B076HHXKL6′ template='ProductGrid' store='ssvar-21′ marketplace='FR' link_id='1c9f7399-9a46-11e8-84a9-b3f728a4d917′]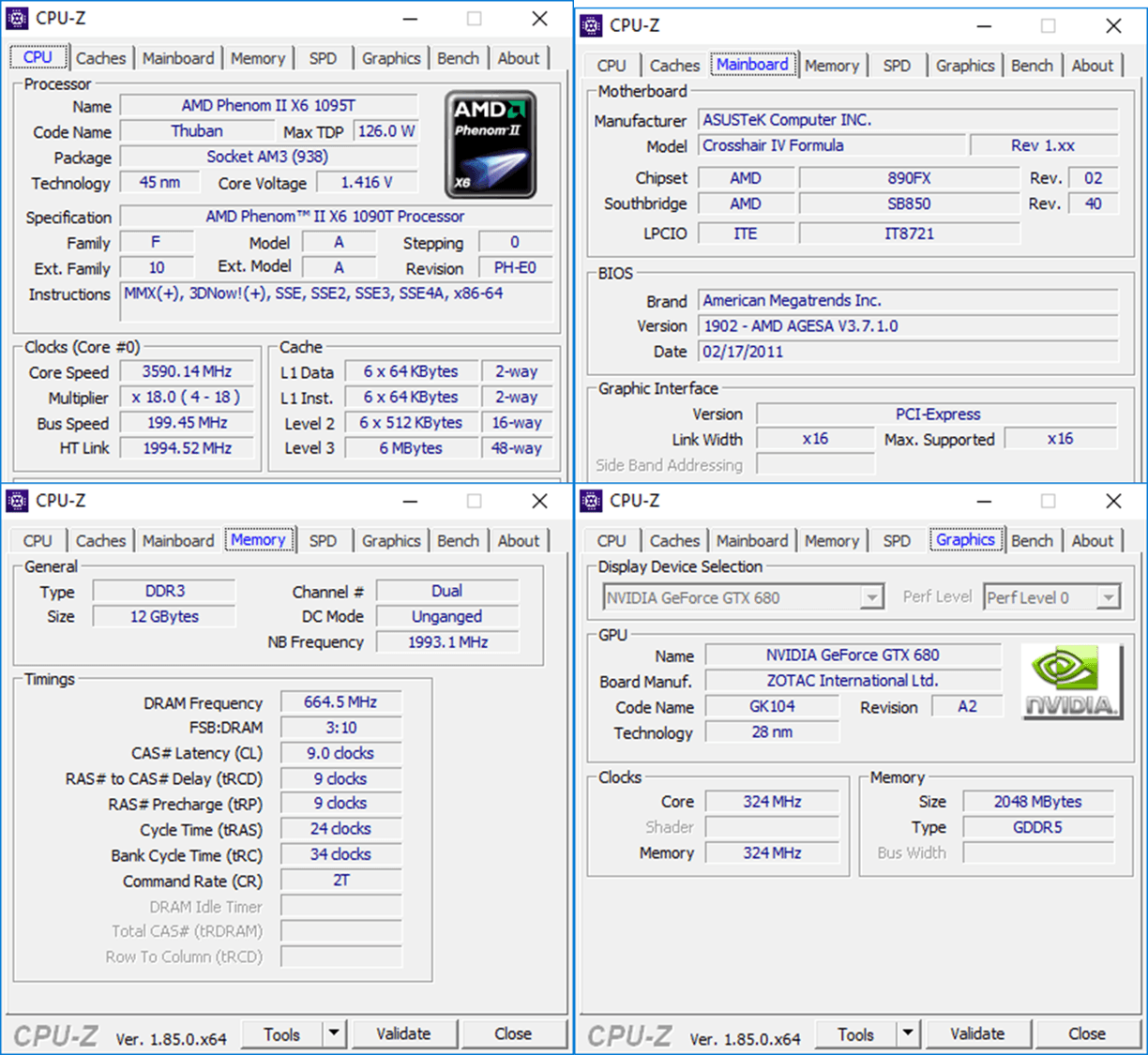 Why Oculus needs this instruction ABSOLUTELY? They can let you install their software and if an application really needs it then popup a message saying that your processor can't run that app…
After a lot of searches I found this magic tool from Intel : SDE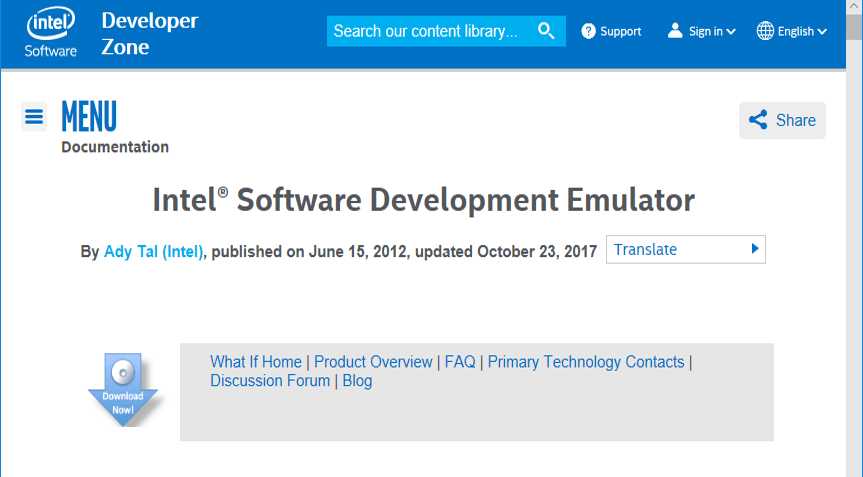 This emulator is called Intel® Software Development Emulator or Intel® SDE, for short.
It makes the installation program "believes" (ah,ah!!)  that you have the good processor by emulation…
After sde installation
Run the windows command as an Administrator
Usage: sde — application
so…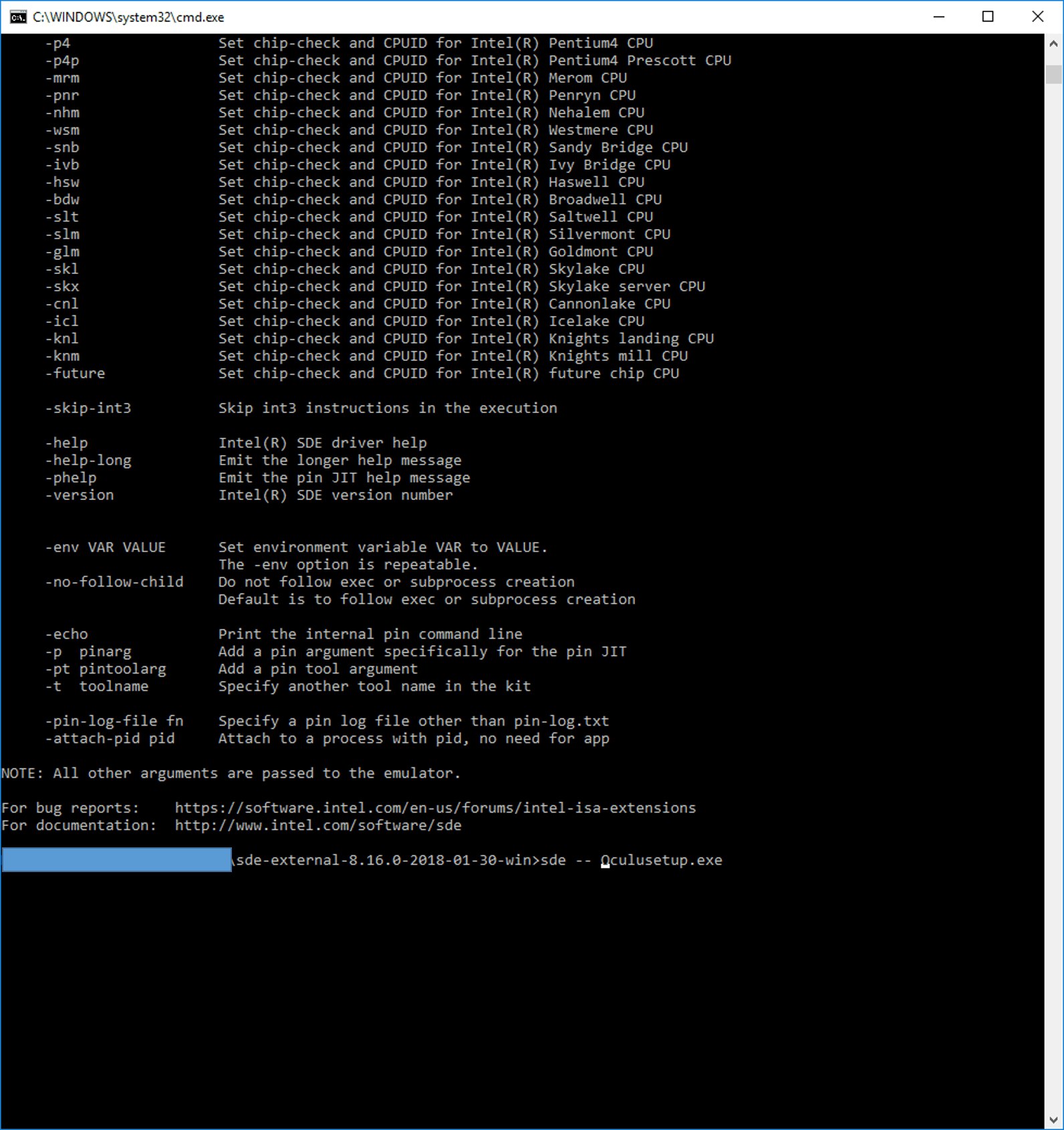 The crazy thing is that I've an AMD processor… but it worked!!
The normal setup started and finish without ANY message!
Second step
The missing drivers… After the installation I've plugged the sensors and the headset: No way. Windows 10 pro doesn't recognized them and my Oculus application couldn't run.
Hey Google!
>> I've found the solution on Reddit: soemtimes when you install Oculus even on a supported configuration, for an unknown reason the drivers are not installed. You have to install them manually
And then, bingo!!!
It works 😉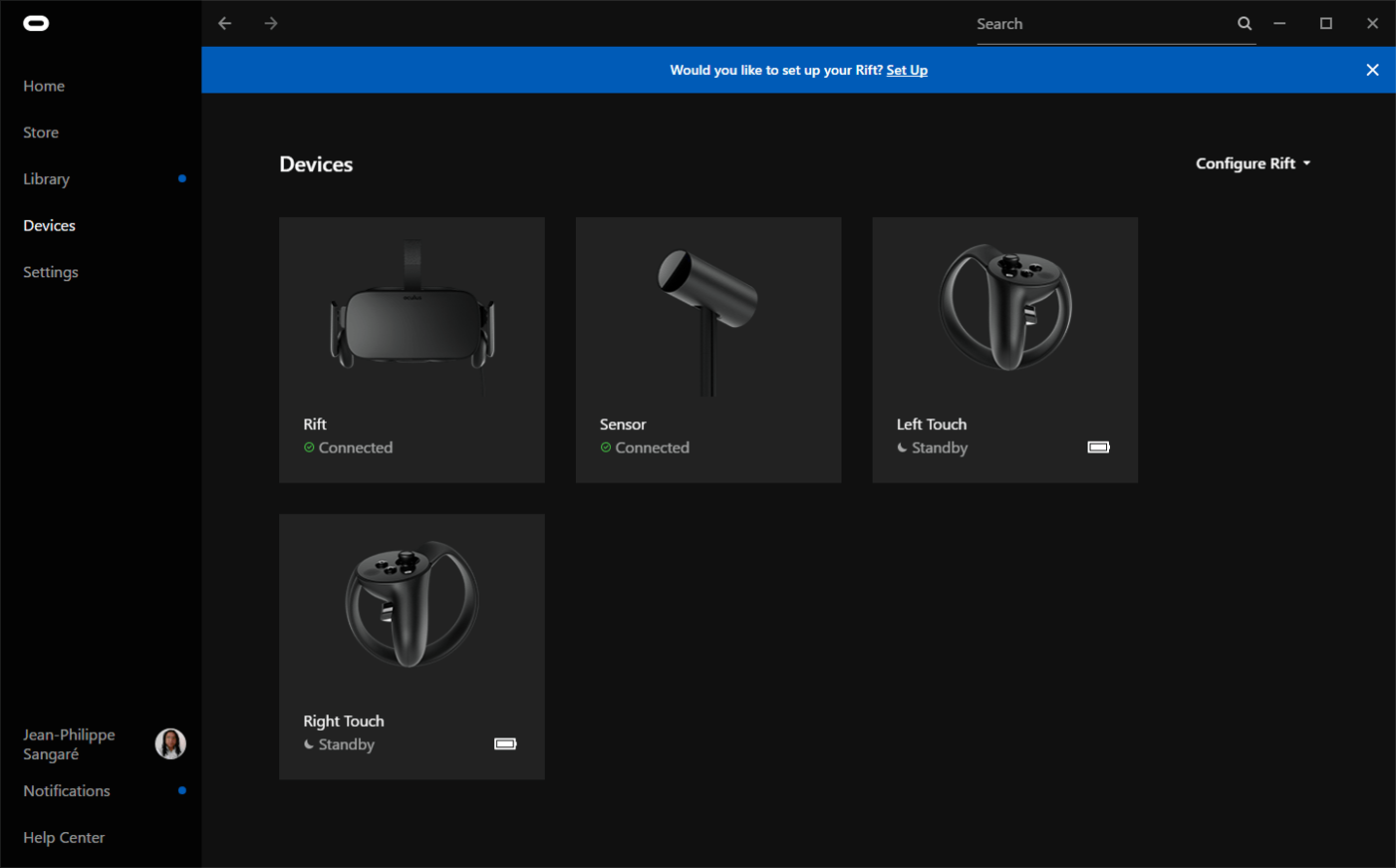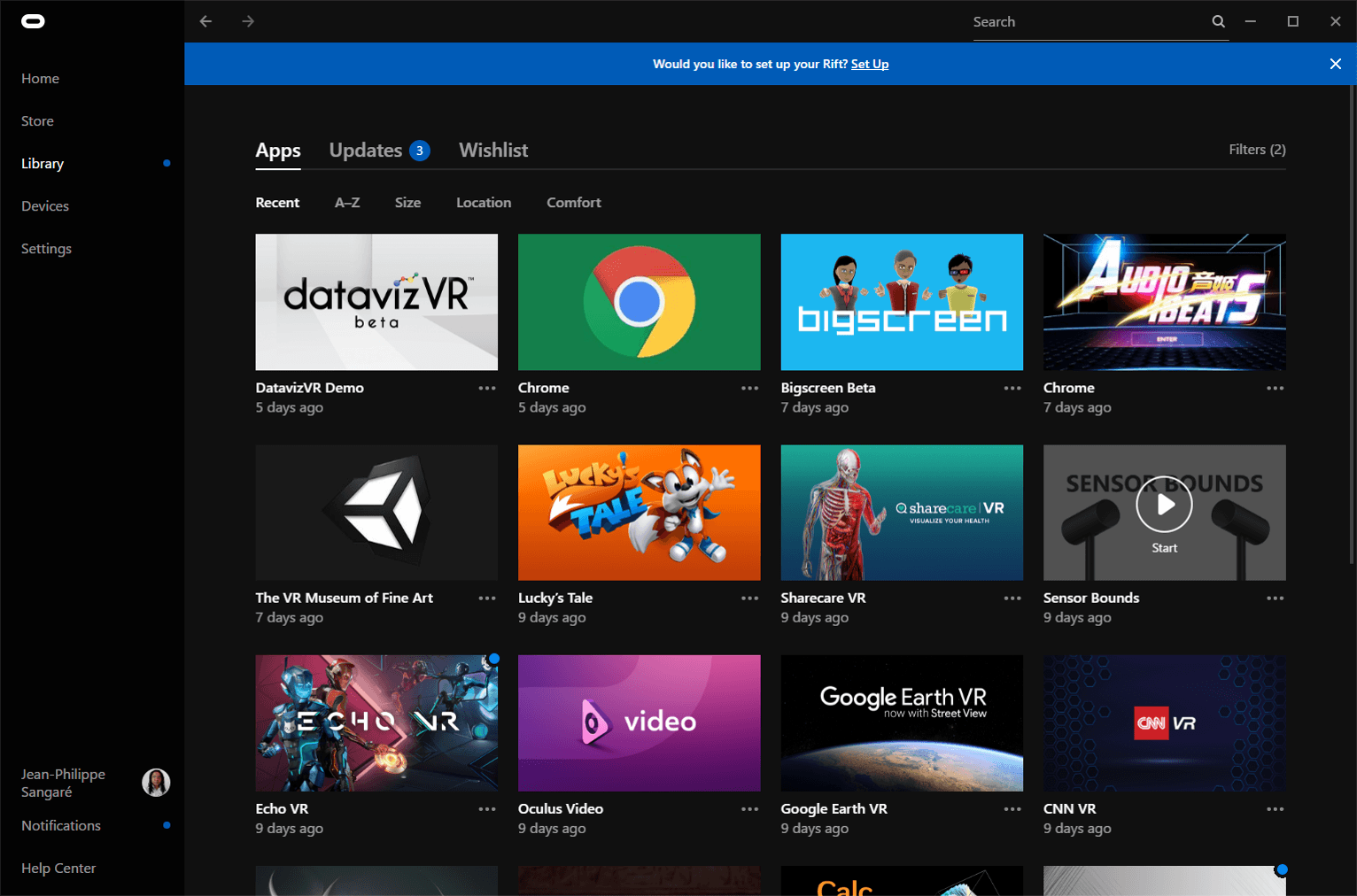 (pssst look carefully you'll see … Google Chrome!!! How? Hey, hey :O) my actual experiment…can't say more)
I can play some free apps (Google earth(!!), Oculus demos, The Labs etc…)
Tilt brush, Google blocks (!!) YOU (from sharecare- a very nice anatomy app) and BigScreen!
I always have a warning from the Oculus app saying that my computer desn't meet the requirements but it disappears when I launch an application.
They run smoothly. I'm very surprised because I've already used many times some supported high end PC and can't (honestly…) find a big difference with the cited apps.
Some games are not working… but I'm not a gamer :o))
I've installed also STEAMVR. But I can't get app running with it too heavy load on the system…Things turned bad… I've uninstalled it.
Next challenge : find other headset (Vive/Windows MR etc…)
Conclusion
Don't throw your 3 years old PC by the … Windows :o))
Republished on LinkedIn:
How to install Oculus Rift on an old computer
Latest posts by Jean-Philippe Mohamed Sangaré
(see all)