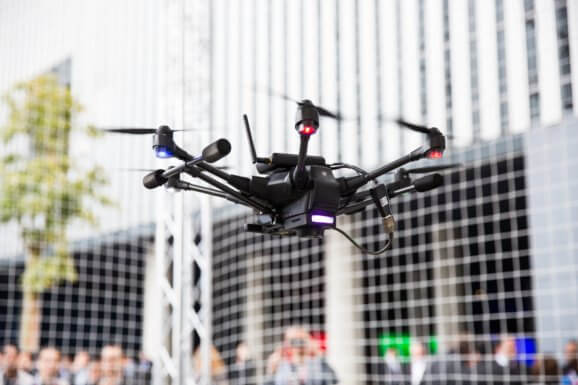 ---
If you're looking for the future of mobile, it may be time to stop staring at the palm of your hand and look instead toward the open roads and sky.
On Monday, the ginormous trade show Mobile World Congress will open its 2017 edition in Barcelona where about 100,000 people are expected. While there will be the usual unveiling of select smartphones and tablets, MWC has dramatically increased the presence of drones and autonomous vehicles as it seeks to expand the concept of what we mean by the word "mobile."
The event is dedicating almost an entire day each to vehicles — both connected and autonomous — and drones. In addition, the conference has added multiple sessions on artificial intelligence, both as it relates to vehicles and drones, as well as other mobile uses.
Of course, there will still be plenty of new smartphones unveiled at the show. Names like LG, Huawei, Moto, are all scheduled to make smartphone, tablet or smartwatch announcements, though many of the details have already leaked out.
But in general, it's getting harder to impress with new hardware. Smartphone sales were decent last year, growing 5 percent from the previous year in terms of units, according to Gartner. But much of this growth is being driven by low-end, commodity smartphones. Even Apple, which doesn't officially participate at MWC, saw its first annual decline in smartphone sales last year.
In its own post-mortem report on MWC 2016, conference organizers noted that smartphones released at the last show failed to sizzle.
"More than 40 smartphones were announced by over 20 global manufacturers during this year's Mobile World Congress," the report said. "Samsung, LG, Sony and others used the show as a platform to launch flagship products, but this year was largely underwhelming in terms of innovation."
That has the mobile industry, once again, on the hunt for technology that will drive uses of networks, investment in blazing-fast 5G networks, and, of course, bigger profits. What's the next big thing in mobile? The industry for several years has touted the Internet of Things, as it will do so again this year
Last year, the big splashy newcomer was virtual reality. Facebook CEO Mark Zuckerberg made a surprise visit to the Samsung keynote to wax philosophically about his plans for Oculus and his vision for the future of VR. MWC will continue to hype VR, though sales of pricey headsets have been lackluster, and there's growing doubt that mainstream audiences are ready for it. At MWC, visitors can still visit the AR/VR zone to see demonstrations of applications for architecture, sport, medicine, entertainment and gaming.
But drones are going to crash this party in a big way.
Drones aren't entirely new to MWC. Last year Intel CEO Brian Krzanich demonstrated a drone on stage during his keynote. But that was mostly to highlight the need for the more robust connectivity that 5G networks would provide.
This year, the drones arrive on Sunday, normally a day of press briefings reserved for the biggest smartphone brands. This year, China's DJI, the world's largest drone company, is organizing its first major MWC press conference, tucked between Huawei and Samsung.
At the exhibition hall, MWC has added a Drone Zone, which will focus on commercial uses of drones. There will also be numerous Drone Cages, That will allow demos in the hall, flights will be streamed into a networking lounge, and there will be a viewing area to watch drone pilots in action.
Drone-mania will culminate on Thursday when the International Drone Expo holds a Drone Summit, a kind of mini-conference within MWC. The four hours of panels will cover the need for better connectivity, chips and regulatory challenges.
"There has never been more attention in the media regarding the growth of Drone Technology. Commercial Drones are set to change the face of Mobile Transport/Delivery, Agriculture, Infrastructure Inspection, Mining and Disaster Response," MWC organizers said in an announcement.
LIkewise, discussions about the the cars and trucks of the future will be impossible to avoid. On Monday and Tuesday, there are several panels about the future of autonomous and connected vehicles that feature traditional players like Mercedes-Benz as well as upstarts like Uber's Otto and its connected trucking kit.
Even before the show, Qualcomm and LG announced a 5G partnership designed to bring "cellular communications into vehicles. Bring 5G and Cellular-V2X Communications Into Vehicles
"The advanced wireless capabilities of 5G … will usher in new use cases necessary to fulfill our vision for increasingly connected and autonomous vehicles," said Kim Jin-yong, executive vice president, VC Smart Business Unit, LG Electronics, in a statement. "As a leading inventor of 5G technologies and our key modem provider for telematics, Qualcomm Technologies is the company of choice for bringing the next-generation wireless solutions that leading automakers need and expect."
Intel also highlighted the use of 5G for autonomous and connected vehicles in its pre-show announcements.
Among the discussion points during the numerous vehicle-related panels and keynotes at the show: What kind of connectivity is needed? What about security? And what are the opportunities? If the car truly becomes a platform, what services does that enable?
"Arguably, items like cars are becoming an extension of one's home and office, wherein they listen to the same music, experience the same connectivity and comfort," read the description for one session on Cars As A Service. "The implementation of technology allowing users to customize their shared car experience through music, car layout and even where they are located. The surge in self driving technology and the connected user will allow cars to provide a service entirely customized to the person riding it, their mood, time of day or even their destination."
In many cases drones and autonomous vehicles share a common link in terms of their use of artificial intelligence. For that reason, and the growing uses of AI across the mobile landscape, MWC also added a heavy does of AI sessions this year. And it created an Robotics and AI Zone in the exhibition hall.
All this attention on AI, futuristic vehicles, and flying robots is no guarantee that any of these things will have a big impact. All one has to do is look at all those unsold VR headsets.
But it does raise the prospect that further down the road, when we're flying our unmanned drones from the backset of our self-driving car, the notion that mobile once mostly centered around a little gadget we held in our hand is going to seem quaint.
Source: Autonomous vehicles, drones, and AI will dominate Mobile World Congress 2017