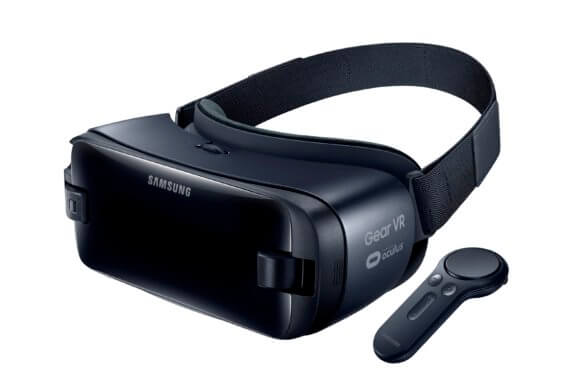 ---
Samsung has introduced an update to its Gear VR headset — along with a more ergonomic and curved design it now includes an Oculus-powered controller.
"At Samsung, we are focused on setting and exceeding the standard for VR experiences, making them even more accessible and delivering the highest in quality," said Younghee Lee, executive vice president for Samsung's mobile communications business. "The Gear VR with Controller expands our VR ecosystem to help consumers get more engaged and immersed in VR content — whether it's games or videos."
The headset weighs nearly 12.2 oz (345 grams), which makes it heavier than the previous two versions. It's also wider (207.8 X 112.5 X 98.6 mm) than its predecessors. The field of view remains 101 degrees, the same as the 2016 version.
The inclusion of a controller had been rumored for days, after being first spotted in filings with the Federal Communications Commission (FCC). Samsung didn't really have a controller you could use natively, although you may have been able to use one from a third party. Now the company is stepping up so you can get more out of your virtual reality experience and developers have more flexibility to explore this new medium.
The controller weighs 2.21 oz (64.3 grams) and measures 108.1 x 48.1 x 38.2 mm. It features a clickable touchpad, trigger, and home, back, and volume keys. It is also equipped with an accelerometer, gyrometer, and magnetic sensors and is powered by 2 AAA batteries estimated to last up to 40 days with an average of 2 hours of daily use.
Both the headset and controller support micro USB and USB Type-C port, and there's a converter in the box.
While the addition of an in-box controller means more controls and capabilities for Samsung customers, it also allows Samsung to take on the likes of Google's Daydream offering, which includes a controller with the headset.
Samsung teamed up with Oculus to develop a controller for the popular VR headset — more than 5 million have been sold to date — and there are more than 70 titles being developed for this capability. Oculus said in a blog post that "existing touchpad apps will be compatible as well, which means plenty of existing Gear VR apps will be ready from day one."
In the next few weeks, Oculus plans to open up the Gear VR Controller SDK to developers.  Those interested can submit a request to get in on the action.
Pricing and availability of the updated Gear VR headset and controller have not been revealed. However, Samsung said the headset will work with the company's Galaxy S7 and S7 edge phones, along with the Note5, S6, S6 edge, and S6 edge+.